Product Description
Jillian Michaels Fitness App is a workout and meal planner.


Start your 7-Day Free Trial with the Jillian Michaels personalized fitness app. Available on iOS and Android.
PERSONALIZED FITNESS PLANNER
Includes over 800+ workout exercises shot in HD video and multiple Premium customized fitness workout planner programs.
From HIIT, Kickboxing workout, Post and Prenatal workout, 5K & 10K running with GPS tracker, Weight Loss workout and custom workout planner like Ab workout, Booty workout, Yoga and more!
The workout planner builds around your fitness plan with full customization including:
• Select fitness levels to adjust workout intensity
• Swap and ban exercises from the workout
• Adjust transition time of exercise during workout
• Select available equipment to use in your workout
• Play your own music during your workout
• Let Beat Sync adjust the beat of music to the pace of workout
From beginner workout to advanced, My Fitness Premium has everything including the My Fitness Workout Generator to build unique targeted workout anytime with 10, 20, 30 or 45 minute options to target ab workout, legs, back, butt workout and more!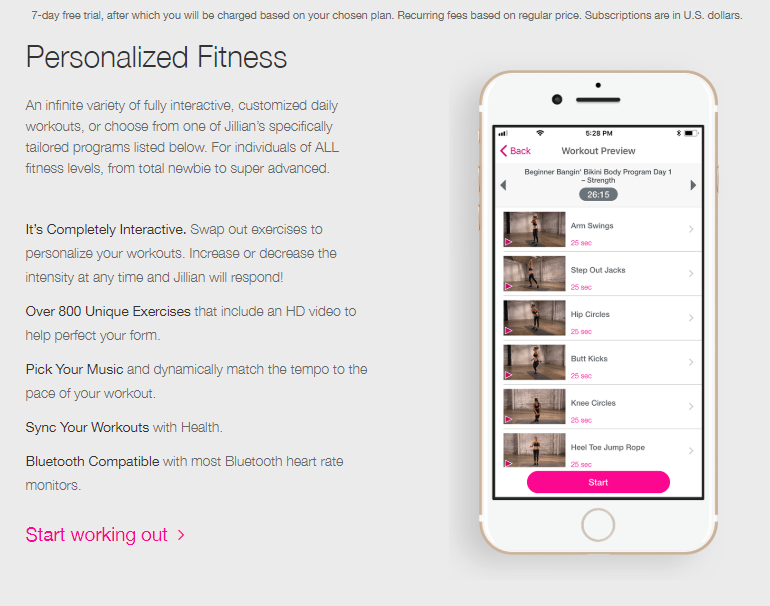 DVD WORKOUT LIBRARY
All subscribers have access to stream select titles from Jillian's DVD workout library in the My Fitness app including the full Bodyshred workout planner DVD set!
CUSTOMIZED MEAL PLANNER
My Fitness app by Jillian Michaels is also your own personal diet coach with the new Premium Advanced Meal Planner system to help you reach your weight loss goals or maintain a healthy lifestyle.
Going beyond just planning your own meals, the Advanced Meal Planner System features tools to help plan meals for the whole family!
• Omnivore, Vegan, Vegetarian, Paleo & Gluten Free, Pescatarian, 5-Day Jumpstart, Keto Meal Planner
• Filter out ingredients for food allergies or foods you don't like
• Grocery lists to check off the items in the app as you shop
• Dynamically adjust recipes for weight loss, maintenance or muscle gain
• Dynamic recipe adjustment based on number of servings
• Options for batch cooking so you can plan to eat delicious leftovers
• Mark favorite recipes so they appear more often in your plan
Jillian's Advanced Meal Planner System is a Premium feature and literally built around you with 100's of recipes and more being added all the time.
CUSTOMIZED FITNESS FOR YOU
• Siri shortcuts to open, pause and stop workouts
• Daily custom health and fitness app tips from Jillian Michaels
• Earn and share badges for completing fitness programs
• Jump between workouts on your iPhone, Apple Watch or iPad
• Weekly side-by-side fitness app progress pics with selfie photo tracker
• Compatible Bluetooth devices and Apple Watch for Heart rate tracking
• Apple Rings and Apple Health heart rate and activity integration
• Calorie and exercise tracking shared with apps like My Fitness Pal, Lose It! and more via Apple Health integration
Download now and start your free 7-day trial of Premium My Fitness access for the ultimate workout planner and delicious meal planner recipes to get your beachbody confidence today!